Datainterfaces, together with Unità di Crisi, is present at ArtVerona presenting Help, a real time installation based on Twitter Streaming APIs.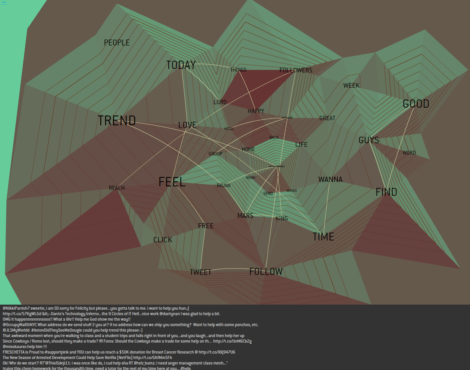 Help aims to show the sense of loss felt in moments of confusion, and its similarities with the feeling of bewilderment created by the exploration of unfamiliar territories. The need for a guide is constantly growing: to find a new way, to solve a problem, to learn new skills.
Help is a realtime installation that monitors and represents, help requests and offers arrearing on the Twitter network. A software application developed by Datainterfaces selects, through the Twitter Streaming APIs, the messages containing the word Help, and it displays them on screen. Simultaneously, the text of every Tweet gets broken down in its individual words, which get visualized in order to display semantic relevance (by size), relatedness (by proximity), and persistence (by time).
Datainterfaces and Unità di Crisi will be present from the 6th to the 10th of October at the ArtVerona 2011, in the Independents Pavilion.