Flickr Cities is an exploratory interface designed to browse the photos shared by Yahoo Labs in its Yahoo Flickr Creative Commons 100M dataset. The aim of the app is to provide an easy way to filter, search and look into the pictures taken by thousands of Flickr users over the course of eight years in seven major cities around the world.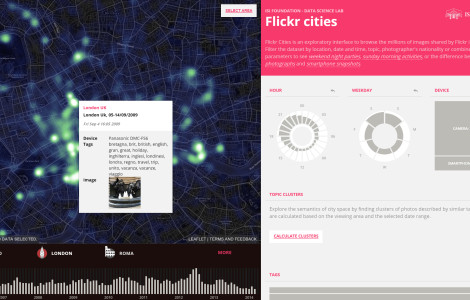 In the first release, Flickr Cities displays a sample of 100.000 photos for each city, allowing the user to filter and browse the images by combining several parameters. Date, weekday and time at which the picture was taken can be combined with information about the type of device and the tags used by the photographers in order to explore the contents of the dataset and correlation between images, time, and tags. Using the "filter by location" button on the map, results can also be filtered geographically to focus on specific areas of the city.
Once the dataset has been filtered to match the area and timespan of interest, the semantics of city space can be further analyzed using the Calculate Clusters function. The clustering operation groups photos by calculating the Non-negative matrix factorization of the position/tags matrix. The results are displayed on the map, and by selecting a given cluster, the user can explore the main tags that make up the clusters, and the geographical distribution of its photos.
TEAM
Marco Quaggiotto
Rob Poelmans
Mariano Beiró
André Panisson
Ciro Cattuto
Rob Poelmans participated to this project thanks to support from Erasmus University College Brussels
Dataset
"The New Data and New Challenges in Multimedia Research" by Bart Thomee, David A. Shamma, Gerald Friedland, Benjamin Elizalde, Karl Ni, Douglas Poland, Damian Borth, and Li-Jia Li, arXiv:1503.01817.