Infrazioni (infractions) is a public interface for reports on traffic code violations in the city of Turin. The application allows to browse and explore more than four millions reports by combining filters on different dimensions of the data, such as date, time, day of the week, type of vehicle, type of violation, location.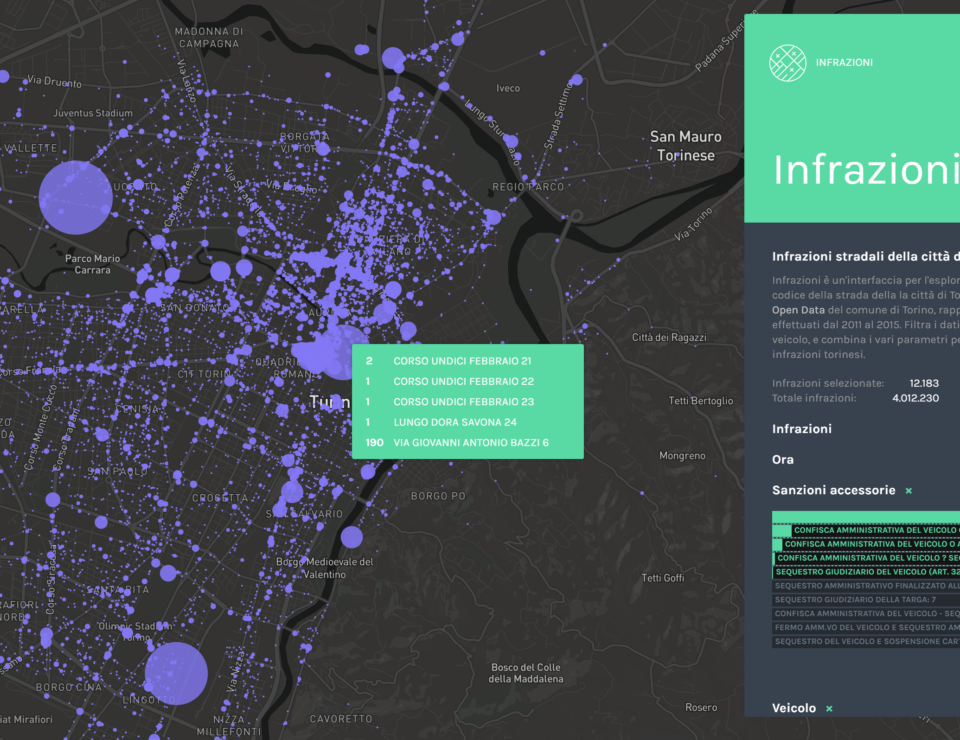 The data, made available on the Open Data portal of the city of Torino, was collected from the beginning of 2011 to the end of 2015 by the City Police force, and it contains more than million reports in more than 55.000 unique locations, described either by street name and house number, or by street crossing.
To build the reports database, more than thirty different datasets were merged and geolocalized by matching the location descriptions with city streets and house numbers provided by the placenames database of the City of Turin. The application is made up by an API connected to the reports database that is dynamically queried through the frontend interface that controls the visualization and that provides visual tools to interact with the data itself.
The basemap uses tiles provided by MapBox, built using OpenStreetMap data for the visualization of city features.
Italiano
Infrazioni è un'interfaccia pubblica per l'esplorazione dei dati relativi alle violazioni al codice della strada della la città di Torino. L'applicazione permette di esplorare più di quattro milioni di verbali combinando filtri su diverse dimensioni del dato, tra cui giorno della settimana, data, ora, tipo di veicolo, tipo di infrazione, e luogo.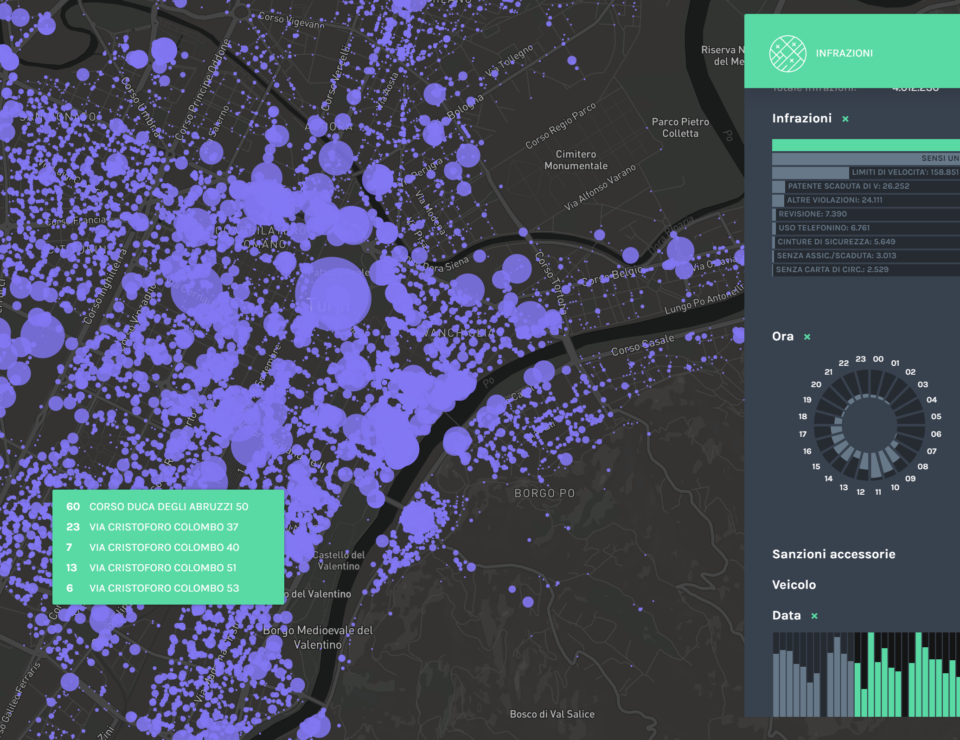 Il dataset, disponibile sul portale degli Open Data del comune di Torino, contiene più di quattro milioni di verbali raccolti dal 2011 al 2015 dal Corpo di Polizia Municipale in più di 55.000 diversi luoghi descritti da via e numero civico, o attraverso l'indicazione dell'incrocio.
Per costruire il database dei verbali, le fonti sono state aggregate e geolocalizzate confrontandone l'indirizzo con la toponomastica messa a disposizione dal Comune di Torino. L'applicazione consiste di un'API connessa al database dei verbali che è interrogata dinamicamente attraverso l'interfaccia di frontend, che controlla la visualizzazione e l'interazione con i dati.
La mappa di base utilizza immagini fornite da MapBox e costruite su dati OpenStreetMap per la visualizzazione di strade ed edifici.
TEAM
Marco Quaggiotto
André Panisson
Michele Tizzoni
Ciro Cattuto
Datasets
Violazioni del codice della strada, Direzione Centrale Corpo di Polizia Municipale
Toponomastica, Geoportale della Città di Torino