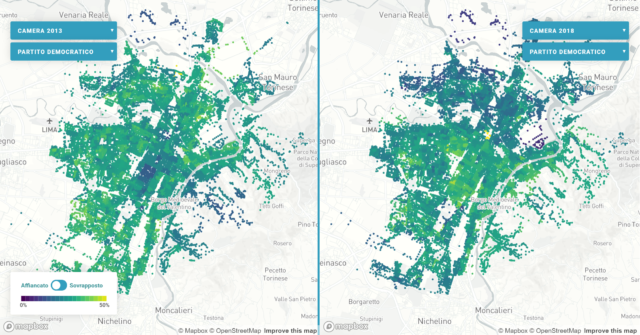 Il voto strada per strada is an interface designed to compare the electoral results in the urban context, in order to analyze the evolution of the political landscape of the city and to analyze the different dynamics that take place in the city center and in the periphery.
Using the Open Data provided by the cities of Torino, Bologna and Firenze, the project combines the street numbers of the city and the electoral wards they are assigned to. Ballot results are displayed on a map where each dot correponds to a street number. Then, dots are color coded according to the voting share of a political party in the corresponding electoral ward. The map allows to explore the results in each electoral wards of the four main Italian parties.
The basemap uses tiles provided by MapBox, built using OpenStreetMap data for the visualization of city features. The election datasets are made available by the municipalities of the city of Torino, Firenze, Bologna and Milano.
Italiano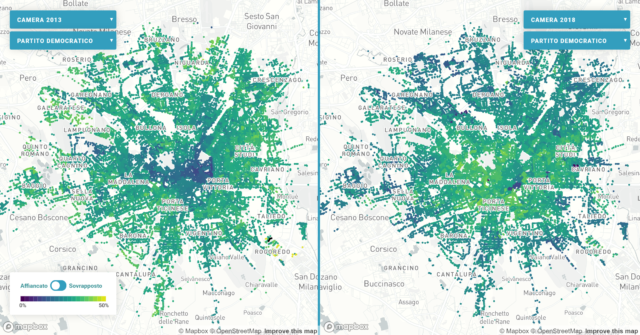 Il voto strada per strada è un'interfaccia progettata con lo scopo di esplorare i risultati elettorali nel contesto urbano, al fine di poter confrontare i risultati di diverse edizioni e di analizzare le dinamiche che regolano il rapporto tra centro e periferia.
La mappa è basata sugli Open Data messi a disposizione dalle città di Torino, Firenze e Bologna, che consentono di localizzare ogni numero civico della città e di identificare la sezione elettorale a cui appartiene. I risultati delle elezioni vengono mostrati sulla mappa, dove ogni punto corrisponde ad un numero civico e il colore viene assegnato in base alla percentuale di voti validi che è stata espressa in favore di un partito politico, nella sezione elettorale corrispondente.
La mappa di base utilizza immagini fornite da MapBox e costruite su dati OpenStreetMap per la visualizzazione di strade ed edifici. I dati elettorali sono stati messi a disposizione dalle città di Torino, Firenze, Bologna e Milano.
Datasets
Dati elettorali: OpenData Comune di Torino, OpenData Comune di Firenze, OpenData comune di Bologna
Toponomastica: OpenData Comune di Torino, OpenData Comune di Firenze, OpenData
comune di Bologna